With summer approaching and outdoor decorations piling up in storage, you might be thinking about getting your favorite outdoor water fountain dusted off and inspected. If you still love the water feature, but have found that the pump is no longer working, replacing the pump is an easy solution! You simply need to find out which type of solar water pump you need as well as the size to bring your outdoor water fountain back to life.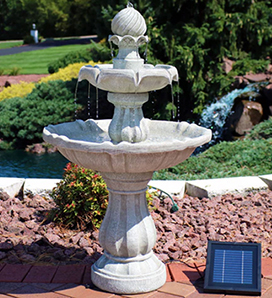 What's GPH and how many do I need for my fountain?
GPH measures the number of gallons of water per hour a pump will circulate. According to hunker, you can measure this by taking the diameter of the fountain spout and multiplying that by 100. For example, a smaller outdoor fountain with a 1-inch diameter spout will need a fountain pump that has at least 100 GPH capabilities.
Determine the maximum lift or "Max Head" for your fountain.
The maximum lift or "max head rating" is the height of the fountain from the pump to the fountain head or spout. This indicates the measurement at which the pump will need to push the water to reach the spout or head. Once you have the measurement, choose a solar water pump that is at least 1.5 times the head height.
So, if a fountain has a head height of 40 inches, you will want to choose a solar water pump for fountain that has a maximum lift of at least 60 inches or more to ensure strong water flow in and out of the fountain. If you are afraid that the pump may be too strong, you can also get a flow reducer to slow the flow down or purchase a pump with flow control to put on a lower setting.
Alternately, if you know you want a slower trickle-type flow for your fountain, you could purchase a solar water pump for a shorter head height (like a 50-inch head height for a 40-inch head height).
Ensure that the Water Pump Tubing is the Correct Size
The size of the outlet on the pump, where the fountain hose attaches to, is called the "discharge size".
You'll want to double check the size of the outlet will fit with the fountain's tube, or if the pump comes with tubing, that the tubing will fit with the fountain's spout.
Please note, sometimes pumps will include adapters that will make them more universal with fountain hoses and those make it easier to ensure a proper fit.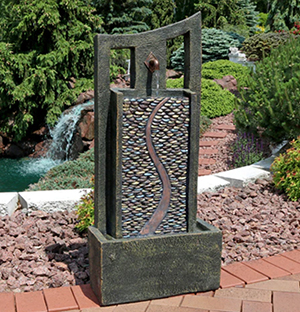 The perfect size of solar water pump will help increase the lifespan of your favorite indoor or outdoor water fountain.
By simply taking a few measurements to calculate the needed GPH, maximum lift and discharge size, you'll be well on your way to enjoying your water feature.