The installation of the solar pumping system should be performed safely and according to the equipment manufacturer's instructions. Many solar water pump manufacturers/suppliers offer complete packaged systems including the wires/cables between the array, pump controller and water pump so that electrically the system is just a plug and play type system. In these systems it is only the water pipe and associated fittings, along with any material required for the array frame installation that need to be supplied by the system installer.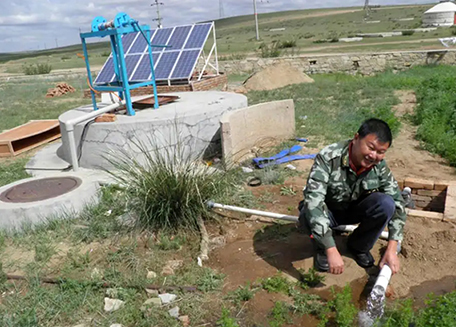 Though the electrical wiring may be supplied there are still some key principles for working with solar electricity that needs to be understood by the system installer:
In some Pacific Island countries, any electrical work on sections of the system that have a voltage greater than 120V dc or 50V rms ac must be performed by a licensed electrician or similarly qualified person. Many of the larger solar powered water pumping systems will be operating in excess of 120V dc so any additional electrical wiring to that provided with the system will need to be undertaken by a suitably qualified person for that country.
In Pacific countries following the National Electrical Code from USA, extra low voltage is defined as 60V dc and below. It is recommended that in all Pacific countries with any system operating greater than that voltage that all care shall be undertaken to never come in contact with the live wires.
Solar modules will produce electricity at full voltage whenever they are exposed to sunlight, even early in the morning or late in the evening. Attempting to cover them (e.g. with a blanket) to stop them from generating is not a safe practice.
All wiring should be treated as live at all times.
Array Installation
Solar powered water pump systems are typically provided with an array mounting frame, either for pole mounting or fixed on the ground. The array could possibly be roof mounted but often the location of the solar water pump is not necessarily near a building or the building roof is shaded or not of proper materials. If the array is mounted on a roof, then the installer shall follow the relevant installation requirements as detailed in the two guidelines:
Grid Connected PV Systems-Installation Guidelines.
OFF Grid PV Power Systems-Installation Guidelines
Tips:
The installer shall follow the instructions provided by the manufacturer/supplier.