A solar water fountain can easily increase your backyard's flare by adding an environmentally-friendly charm to your landscape. Needing only the rays of the sun to power it, a solar fountain can draw attention to a spot in your yard or create an appealing bird bath.
A solar water fountain uses solar panels to run on pure solar energy. On the market, there are fountains that come with a built-in solar panel or fountains with detachable panels. Moreover, there are solar water fountain pumps that allow homeowners to transform a traditional bird bath into an attractive fountain.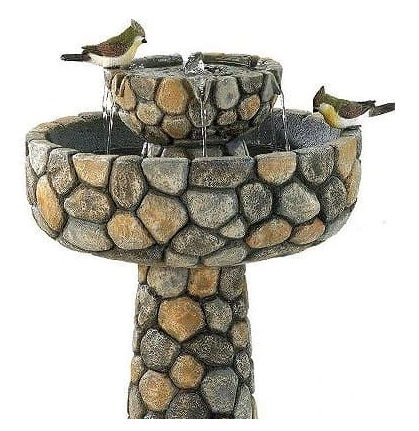 Either bought as a whole or made by yourself, a solar water fountain has numerous benefits. From the landscaping point of view, a solar water fountain is easy to place anywhere in your yard as long as the solar panel is exposed to sun rays. Achieving this is easy either by placing the whole fountain in a sunny area or by choosing a model with a detachable solar panel.
A solar water fountain is also environmentally friendly. It can significantly reduce the cost of your electricity bill and, since a solar water fountains lack the pumping system, it can also help you cut out all costs related to maintenance and repairing.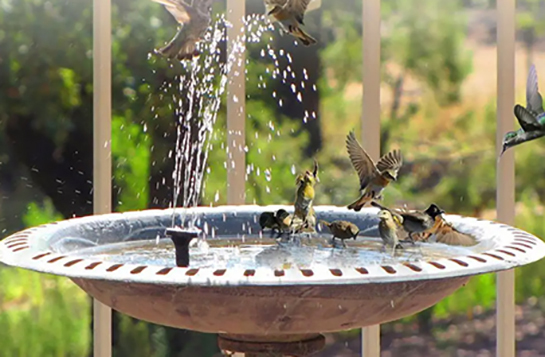 On the downside, solar water fountains draw their energy from the sun. This means that you'll not be able to fully enjoy your fountain on cloudy days or at night. The alternative is to invest in a solar water fountain backed-up by batteries if you want to have a functional fountain at all times.
Regarding placement, although you can virtually place your solar water fountain for bird bath anywhere, you'll have to make sure the solar panel is located in a sunny area. Using a detachable solar panel is a simple solution if you want to place the fountain in a shady spot but remember that you'll have to use a cord to direct the energy from the solar panel to the fountain.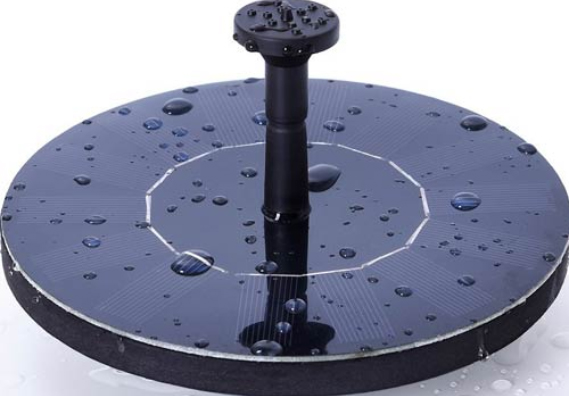 ATO solar bird bath fountain pump is ideal for all homeowners, easy to use and simple to maintain. This solar-powered water fountain pump simply floats in the water and is easy to place in a bird bath, small pond or just in a water container. The pump is eco-friendly and it pumps water automatically when there is sun. It doesn't have batteries and doesn't require any electricity to work, which is a huge advantage for most homeowners. The convenient and functional design allows you to move the pump easily and use it for multiple purposes. The fountain comes with 8 types of spraying heads and is great to decorate a bird bath, outdoor fish tank or a small pond. Moreover, this solar water fountain pump comes with one year of limited warranty and an excellent customer service that is ready to answer all your questions or help you out with any issues that might arise.