There are several technically viable options for new pumping systems, generally distinguished by their energy source—diesel pump, wind, solar, etc. Cost-benefit analysis (CBA) is often used to assess the economic merits of alternative investment options.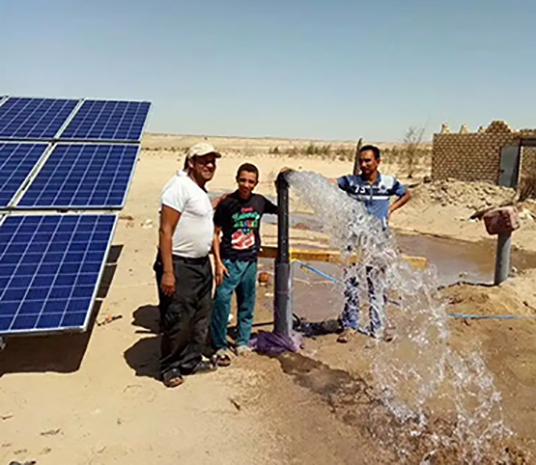 Pumping stems typically have a 20-year lifespan, and over that period they incur various costs, some at the outset, and others at different times throughout the system lifetime. Consideration of all costs
incurred during the solar powered water pump system lifetime is often referred to as a life-cycle cost analysis (LCCA). LCCA is particularly important for renewable energy projects because of the high initial investment costs. More
conventional options based on fossil fuels may appear cheaper due to lower initial costs; however, operating costs can be considerable over the project life.
Although pumping systems have myriad costs during their lifetime, a proper LCCA would assess at least four key cost elements:
Initial costs with capital expenditures (CAPEX) and installation/commissioning. These mostly consist of the acquisition of equipment for the solar pump system: PV panels, pump, control system, pipes and fittings, wiring, etc. Initial costs also include design engineering, system installation, commissioning testing and inspection.
Operation and maintenance (O&M). Operation costs are labor and energy costs related to a pumping system's operation. They can vary widely depending on the system's complexity and duty. For example, a hazardous duty pump may require daily checks for emissions and operational performance, whereas an automated nonhazardous system may only require limited supervision. Security and managerial costs are also included here. Maintenance costs comprise all costs entailed in keeping the system functional, including routine activities (e.g., cleaning solar panels) and small repairs to faulty components. System design can influence O&M costs through construction quality, components used, and ease of access to spare parts.
Energy . System energy consumption is often one of the largest cost elements in the LCC, especially if the pump runs more than 2,000 hours per year. Solar pumping systems have lower energy supply costs than systems based on fossil fuels, such as diesel.
Capital replacements. Some major parts of a pumping system have a shorter design lifetime than that of the overall system (often 20 years), requiring capital replacements along with the associated costs. The pump, for example, often needs to be replaced after 7–10 years.